Dog Grooming Services in Los Angeles
Grooming Special $35 (Buy 6 Get 1 Free)
This service includes a wash with our premium conditioning shampoo, Simply Clean, dry, brush and ear cleanse.
If you'd like your dog to stay & play before or after their bath, there's a $12 daycare fee.
Please download & sign the Safe & Sound Contract.
Add-on Grooming Services:

Nail Clip - $14.00
We cut nails to a prudent length, just short of the toenail quick. Nail trimming prevents painful nail cracking or nails breaking.

Anal Gland Expression - $14.00
Anal gland expression can help hinder symptoms connected with anal gland irritation. Glands can become infected if liquids are not drained naturally.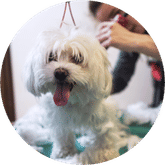 Independent Grooming - Pricing starts at $55
An independent groomer is also available to make your pup even more adorable. Call 323-939-0945 to schedule an appointment!
Come visit our cage-free daycare and boarding in Los Angeles, CA specializing in special care, quality treats, and grooming supplies for dogs.